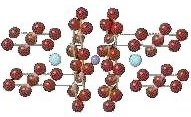 YBCO Molecule
Superconductor Links

Below are various links to web sites dealing with superconductors and/or related fields; some of which may already be listed on the USES, NEWS or PLAY pages.

Pictures/Graphics/Animations:

Tutorial/Research:

Note: The link for Elsevier Science/Physica C has been removed. Elsevier Publishing has facilitated the theft of intellectual property belonging to Superconductors.ORG. And, despite repeated requests, refuses to redress the problem. Elsevier Science/Physica C is NOT recommended.

Research Groups and Institutions:

Manufacturers/Industry:
Recently Superconductors.ORG wrote several maufacturers regarding their position on RoHS. None of them responded. A second batch of letters were written. And again, none replied. Such behavior is not only rude and unprofessional, it is unacceptable. As such, Superconductors.ORG will no longer provide free links to manufacturers. Each manufacturer who wished to be listed must make a commitment to professional and courteous communications with the public. The below manufacturers have made this commitment.

Ancillary:
**Though used by the author of this website, no endorsement is implied.

Upcoming Conferences:

Translation Services:

Recommended Search Engines:

Levity:

PLEASE REPORT ANY DEAD OR OUTDATED LINKS